Leaving Home
The door's open, you just need to get outside.
Awards
Knows the lambda
Presented by T-002
< 3 EMO < 3
Presented by Macarse
Actually bothered to do packaging award
Presented by htormey
Pyglet rocks award!
Presented by htormey
Scores
Ratings (show detail)
Overall: 3.5
Fun: 2.9
Production: 4.4
Innovation: 3.3

3% respondents marked the game as not working.
0% of respondents wished to disqualify the entry.
Respondents
: 27
Files
Diary Entries
Artist in transit
Hadn't planned to enter this time around, because I've started a new job that's taking all my time. But I'm feeling inspired, so it'll be a PyDay for me and Biccy. We sketched out a pretty interesting game idea on MSN this morning, I'm just waiting for her to arrive so we can flesh out the whole game design.
It'll all be finished by tonight, or bust!
Art Dump
Both Alex and I are currently busying with things, he, full time code monkey, me, lazy artist who has assignments due this week, were originally going to skip PyWeek but the calling was too strong and here we are once again. Although we plan only to spend one day working on our game.
Few hours in and here's some art I've whipped up. As you can see there is a lawn.


Since we're spending not much time on this I'm using Adobe flash again, I was thinking about trying a different art program but I don't have time to mess around.
There's extra detail into some parts but alas, you don't notice them.
PyDay + 1
Didn't quite finish last night as planned, but it's basically all together, just needs a little finishing. And sound. And then all that packaging guff. We probably would've finished in good time if we hadn't switched art styles late afternoon. So here we are again:
Leaving Home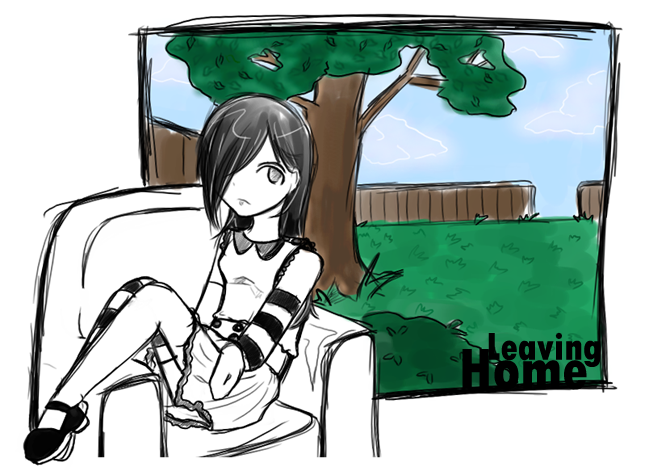 Well Alex has gone to sleep. So I get to write up the "yay-we-have-finished" diary entry, right now only the Python source code is up. Windows and Mac OS X binaries will soon be available.
This PyWeek has been an odd one, originally going to just spend the Sunday working on our game, it soon spilled into the week. I finished up my half of the game mid week and have spent the past few days, testing for bugs and doing what little extra art I could so I wouldn't have to work on my assignments =P (This explains the above image)
Today we (as in Alex) did the music and final touch ups to the game. AVBin will be needed to hear sound.
Right now I can't think of anything else to say, Alex or I will probably write up another post to explain a few more things in a later date.
Enjoy the game and remember: Freedom is only a few clicks away =P
Wrap-up
That was a fun PyWeek! Far less stressful than usual, probably due to us planning a project we knew we could get done in a day, rather than going for something ambitious and week-long. Still managed to get sick though -- happens every PyWeek without fail.
We got a couple of friends to play-test the game when it was nearly finished, so I'm pretty confident it can be finished by anyone with 10 minutes to spend. I might post a walkthrough later though if it turns out it's needed.
I've uploaded Windows and OS X binaries to my personal website; MD5 sums shown below to prove date authenticity.
Leaving Home: Walkthrough
Following is a quick walkthrough of the game, in case you get stuck at some point. Close your eyes now if you don't want the spoiler (select the text to reveal the spoiler).
Call your mum, by clicking on the phone, then on the photo on the kitchen counter.
Your boyfriend has now produced some keys, which you can use to unlock the kitchen cupboard.
Flush the pills you find in the cupboard down the sink.
The disappearance of your boyfriend means you can now examine a yearbook on the bookshelf.
Call your friend, by clicking on the phone, then on the yearbook.
Give the coat to your friend, by clicking on the coat, then on your friend.
Take the kite outside, by clicking on the kite, then through the door.
That's the end of our short (but hopefully puzzling) game! You can click past the final screen to play again if you like.
Thank you, answers and images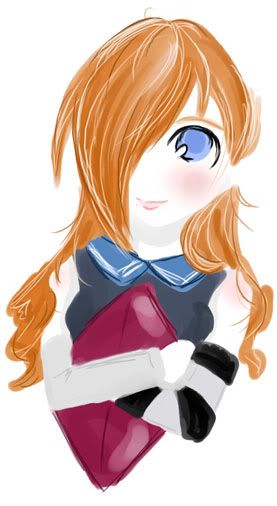 Ah another PyWeek over and done with. Each PyWeek Alex and I try and create a different type of game play! ...Or something.
Big thanks to everyone who played and liked our game. Alex and I are happy that everyone liked our Art and music. We're sorry that the game was so short, but we did mention that
leaving home
was designed to be made in a day.
Sorry to those who found it too hard and confusing, although I'm glad that somehow you still enjoyed the game.
To that one person and any one else who wonders how the whole "Get off my lawn" theme is part of leaving home the story we came up is that you play as a character with agoraphobia, who is unable to leave her own home grounds, including her front lawn, so the goal of the game is to solve puzzles to make it easier to get out the front door, off the lawn and onto the streets beyond the fence. (Get it now? =D)
Congrats to the winners! And everyone who entered. Now it's time to go back to our daily lives.
On a final note, like in kite story I threw in some items from our past entries.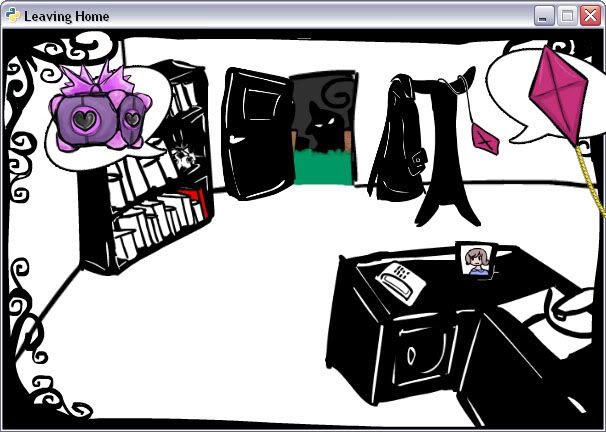 The kite you should all know from Kite story and on the bookshelf is the heart box you needed to collect in Make Me.
Cheers and see you all in 6 (or so) months.